A Strong Finish | Year-End Giving Appeal (from Jun 5th to 28th, 2023)
Help us end the year on a strong financial footing by reaching the goal of $60,000. As with many others, we have experienced unanticipated and unbudgeted cost increases this year. The most significant of these was a second increase in the interest rate on our current loan (5.9% to 8.15%) and also the cost of benefits for our wonderful staff. Help us reach our financial target so we can truly start looking toward the future. We understand that it is a financially challenging time for many. If you have the means and are compelled to give further, we appreciate contributions in any amount.

Funds directed to the Year-End Giving Campaign will be applied to this current year's operating budget. We ask that donations are made through the Canada Helps platform.

If your gift exceeds $1,500, please contact our donor relations coordinator, Lindsay Epp, at lindsay@deltachristian.ca to consider a cash, e-transfer, or cheque donation to avoid service charges.

Bonus Gift: all gifts exceeding $750 will qualify the donor for a free credit towards our new Dolphins Athletics Hoodie at a size of your choice (to be ordered in September 2023).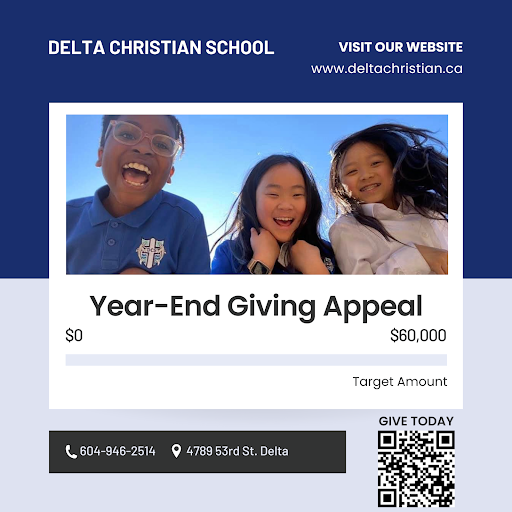 Hope and a Future | Expansion and Facilities Renewal Project (Information Coming Fall 2023)
With a strong financial push to end the year, we will be in a position to go deeper in our planning for our much-needed facilities expansion and renewal of the current facilities. We are entering into year five of the dual-tracking of the school and space is tight! Plans will be shared in greater detail at the start of the new school year. We have growing facility needs that need to be addressed very soon. By the start of September 2025, the school will be running at full capacity with over 320 students. Our target is to expand by adding new learning spaces and repurposing existing spaces for the start of the 2025-2026 school year.